A BRIEF HISTORY OF HOLY ROSARY PARISH
Early Catholic settlers in the Monroe City area came to Missouri primarily from the Catholic settlements in Maryland by way of Kentucky. By 1884, the number of Catholics in Monroe City had increased to the point that Father Denis Kennedy of Indian Creek came to the home of Daniel Archdeacon on South Main Street (more recently the home of the Ira Davis family) to offer Mass.
​A little later, Father E.A. Casey of Shelbina was appointed to serve Monroe City and Hunnewell as missions of his parish. Father Casey and his people purchased the old First Baptist Church on the corner of Oak and Dover for $600. The first service was held there on Sunday, August 31, 1884. The first baptism in the parish was on October 15 of that year and was a child from the family of James Conley. Because of an increasing Catholic population, a cornerstone for a new church was laid on October 14, 1888, by the Rev. D.S. Phelan.
​In 1889, Father Sullivan moved to Monroe City as the first resident pastor. During his 15 years here, he opened a parochial school under the guidance of the Dominican Sisters of Sparkill, New York, in September of 1901. There were 91 students enrolled the first year in the school, which was located in the old south side public school building.
​In 1902, a residence on East Cleveland was purchased for a convent and used until the present residence was constructed. In 1904, Father Lyons of Indian Creek was appointed to succeed Father Sullivan. Father Thomas Mullens took his place, and during his 4 years here, he built a new rectory and was instrumental in establishing the Knights of Columbus organization at Holy Rosary Catholic Church. The Knights of Columbus was started in 1906 with 38 charter members, and Elbert Yates was the first grand knight. Father John Ryan succeeded Father Mullens and remained at Holy Rosary until his death on May 15, 1919. He is buried in the Holy Rosary Cemetery.
​Father J.J. Jermain served the parish for a few months and was succeeded by Father Edward Connolly, a young priest from County Meath, Ireland, who had earlier served as Father Ryan's assistant. Father Connolly returned to Holy Rosary in 1919 as pastor, a position he held until retiring in August of 1965. His life could well draw a parallel with the place he loved so well, the little mission church of St. Peter at Brush Creek, Missouri, where he continued to serve as mission priest long after he retired as pastor at Holy Rosary. He remained in Monroe City as pastor emeritus and beloved citizen until his death on December 16, 1973.
​Father Connolly's first task was to build a new school, and ground for this project was broken on May 1, 1920. Older members can recall that Father Connolly did much of the manual labor himself, particularly helping to dig the basement with a horse-drawn scraper. The school was dedicated in January of 1921. The complete cost of the school building and equipment was $56,000. In the 65 years the high school operated, 668 young people graduated from there. The high school closed in 1966, and since then, approximately 160 students, grades K-8, have attended Holy Rosary each year.
​The Daughters of Isabella Circle 105 was granted its charter on October 12, 1919, with 52 charter members. Alma Welch was the first regent. One of the organization's chief works is to provide a funeral dinner for the family of the deceased, which it still does to this day.
​In 1954, the local Knights of Columbus constructed a gymnasium and meeting room and honored the man who had served them for many years by naming it the Msgr. Connolly Gymnasium.
In 1965, Father William Ludwig was named pastor of Holy Rosary and took upon himself the building of a new convent, church, and rectory. Ground for the convent was broken in July of 1966 and in the fall of 1966 the Sisters of St. Dominic moved into the new building.
​Groundbreaking ceremonies for the church and rectory were held on Sunday, September 17, 1967. The first services were held in the new church on March 2, 1969, and the church was officially dedicated on May 18, 1969. That same year, the deed to the old church was transferred to the Lutheran congregation. In 1956, a parent-teacher organization (PTO) was formed to assist with the funding and maintenance of Holy Rosary School.
​After the high school closed in 1966, a Confraternity of Christian Doctrine (CCD) program was started for students enrolled in the public school. Since that time, many dedicated individuals have given their time and talent to lead others in their faith development.
​In April of 1970, Father Richard Hunkins replaced Father William Ludwig as pastor, and he, in turn, was followed in July of 1978 by Father John Groner. Father Henry Reichert became pastor in July of 1984.
​Father Bill Flanagan was appointed pastor in November 1990. During his tenure, the Knights of Columbus built a new nearly 12,000-square-foot hall, which serves Holy Rosary for funeral dinners, wedding receptions, and various activities of the Knights of Columbus, our church, and the community.
​Father Donald Antweiler came in July of 2002 and was followed on July 1, 2010 by Rev. Michael W. Penn. Father Greg Oligschlaeger, who is the current pastor of Holy Rosary and St. Stephen Parish in Indian Creek, Missouri, came July 1, 2018.
​In 1984, Sister Frances Wessel served as pastoral associate. Mrs. Daniella Kendrick then completed the required education courses to be certified as a director of religious education, and in 1986, she was hired as the first lay director of religious education for Holy Rosary. She was followed by Sister Eileen Friel in 1992.  Sr. Eileen retired in 2013, and Deacon Mike Long currently serves in this capacity.
​The Rite of Christian Initiation (RCIA) program for those wanting to become a Catholic began in 1994, and 9 new members were received into our parish at the Holy Saturday Night Vigil ceremonies.
​Holy Rosary School expanded in 1994 to include kindergarten and before-school childcare. In 2009, the school purchased the former Buckman Superette building across the street and remodeled it for the purpose of a preschool program.  In March of 2012, a committee met to begin the process of looking into building a new school, and on Thursday, August 18, 2016, the first day of school was held in the new building.  The new school is located west of the Knights of Columbus Hall at 415 S. Locust St.  Holy Rosary School houses preschool through eighth grade.  The last wall of the former school building came tumbling down in March, 2019.
​Holy Rosary has had a long and rich history, a time for constructing buildings, developing organizations, and above all, developing one's faith. The faith is very family-centered, and down through the years, it has been very important to be able to share this faith. Various renewal movements have been instrumental in renewing faith, such as Cursillo, Marriage Encounter, TEC, and diocesan programs like Journey in Faith, Christ Renews His Parish, and Why Catholic? Much of Holy Rosary's spiritual vitality is drawn from our Adoration Chapel which operates 24/7 and is shared by our friends in the neighboring church, St. Stephen. The Adoration Chapel is open 24 hours a day, 7 days a week with someone wanting to spend that time with God.
​We are most thankful to God for the many gifts he has bestowed upon our parish over the years and pray that each of us as members of the family of God and Holy Rosary may continue to do our part to build up the City of God.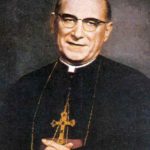 St. Joseph Parish began September 6, 1958, when the first bishop of the Jefferson City Diocese, Bishop Joseph M. Marling announced the formation of a new parish in Jefferson City. 
Because of overcrowding at St. Peter's Cathedral located next to the state capitol and to better serve the growing Catholic community it was decided to construct a new parish on a 19-acre site located on the west side of the city.
The first building constructed housed a cafeteria, church and six classrooms for the parish of 250 families. Fr. Kenneth McDonnell served as the first pastor.
Two additional buildings were constructed for the rectory and a convent. The convent housed the Sisters of Mercy who had been recruited from Ireland by the second pastor, the Rev. Msgr. Francis O'Duignan.
Monsignor Gerard Poelker was installed September 10, 1964 as the third pastor of St. Joseph's. It was during this tenure in 1966 that plans were made to build a modern, circular Cathedral.
On August 20, 1967, Bishop Marling and Msgr. Poelker presided over the groundbreaking ceremony. When the first Mass was celebrated by Bishop Marling at Midnight Mass on Christmas 1968, the parish had grown to 650 families.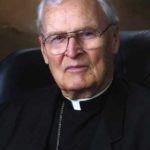 On August 18, 1969, Bishop Michael F. McAuliffe was ordained and installed as the second bishop of the Diocese of Jefferson City following the retirement of Bishop Joseph Marling. The following year, St. Joseph Parish was elevated to title of The Cathedral of Saint Joseph and Fr. Richard Cronin was installed as administrator.In 1973, Fr. Francis Gillgannon succeeded Fr. Cronin as administrator and served until 1982.  Because of the change of bishops, the formal dedication of the Cathedral was delayed until May 5, 1974, when John Joseph Cardinal Carberry presided over the blessing.  During this period of time, the school grew rapidly. The original school on the upper floor had only six rooms for the first through sixth grades. With the completion of the Cathedral church, the original church/school facility was remodeled into classrooms. In 1977 the gymnasium and stage was constructed. Shortly after Fr. Patrick Shortt was assigned as the sixth rector, planning began on an addition to the school.  Fr. Michael Wilbers was named rector in 1989, followed by Fr. Fred Elskamp in 1999.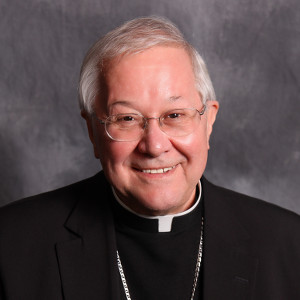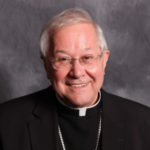 On August 27, 1997, Bishop John Raymond Gaydos was ordained and installed as the third bishop of Jefferson City. The Most Rev. Justin Rigali, Archbishop of St. Louis, was principal consecrator with the Most Rev. Oscar Lipscomb of Mobile, Alabama and the Most Rev. Michael F. McAuliffe, Bishop Emeritus of Jefferson City as co-consecrators.In 2004, Fr. Robert Kurwicki was named pastor of the Cathedral parish.  On January 6, 2006, after 28 years of shepherding the Diocese of Jefferson City, Bishop Michael McAuliffe passed to his eternal reward and his funeral Mass was celebrated on January 14 at the Cathedral.  2006 was also the 50th anniversary of the founding of the Diocese of Jefferson City, and during the Diocesan Jubilee Year, Fr. Kurwicki was honored with the title of Monsignor. In 2005, the Alphonse J. Schwartz Memorial Catholic Center was constructed on the lower Cathedral campus, replacing the former Chancery building on the east side of the city.
Currently, the Cathedral parish serves about 7000 parishioners in 1500 households. The Cathedral school has an enrollment of about 480 students.  Our parish community and school continue to grow as we look forward to spreading the Gospel and sharing our Roman Catholic faith into the 21st century.  Through the labor of many, along with inspiring leadership, we have grown from a simple farm field into a modern, beautiful Roman Catholic parish, ever increasing in our love of Almighty God.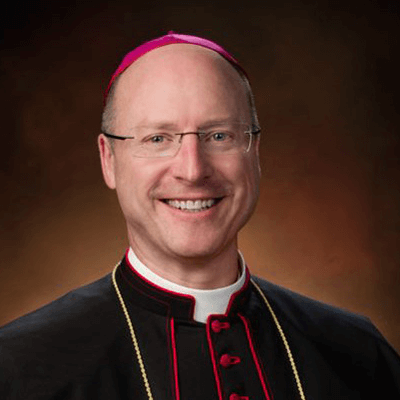 Bishop W. Shawn McKnight was born on June 26, 1968 and grew up in a large Catholic family and attended Catholic schools.
He was ordained a priest for the Diocese of Wichita on May 28, 1994. He earned a Master of Arts degree and a Master of Divinity degree from the Pontifical College Josephinum (1993-1994) and earned a Licentiate of Sacred Theology from the Pontifical Athenaeum of St. Anselm in Rome in 1999.
Bishop McKnight served as chaplain at Newman University in Wichita from 2000 to 2001, where at the same time he was an adjunct professor of theology and visiting scholar at the university's Bishop Gerber Institute of Catholic Studies. In 2001, he earned a Doctor of Sacred Theology, also from the Pontifical Athenaeum of St. Anselm, and wrote a dissertation on the permanent diaconate. He later taught liturgy and homiletics at the Pontifical College Josephinum seminary from 2003 to 2008, where he also served as director of liturgy, dean of students, director of formation in the school of theology, and vice-president for development and alumni relations.
From 2010 to 2016, he served in Washington, D.C., as executive director of the U.S. Conference of Catholic Bishops' (USCCB) Secretariat for Clergy, Consecrated Life and Vocations.
Bishop McKnight also holds a Bachelor of Science degree in biochemistry from the University of Dallas.
He was pastor at the Church of the Magdalen in Wichita, Kansas from July 2016 to January 2018.
He was ordained the fourth bishop of the Catholic Diocese of Jefferson City, Missouri on February 6, 2018.